Kiril Domusc

hiev: "I started Ludogorets with 25.000 euro"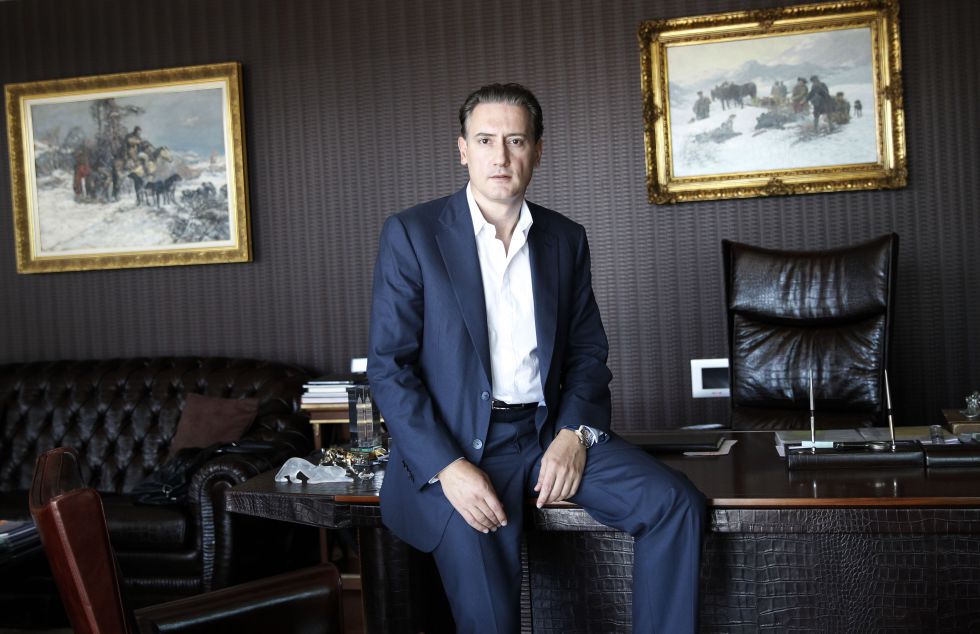 Domuschiev is the owner of Ludogorets. The businessman took over with the team in the second division.
—How did you come to be the owner of Ludogorets?
—There is a big pharmaceutical factory in Razgrad which employs over a thousand people. Since 1945 there was always a football club in the town of Ludogorets, but in 1999-2000, the team which normally played in the second or third category of Bulgarian football, fell into bankruptcy. Faced with this some local entrepreneurs started to try and build a new project focusing on youth.
—Who were these people?
—Mainly Ludogorets ex-players, as is the case of the president, Aleksandrov. He was instrumental in getting things moving and organised all the amateur leagues. He began to work with our boat company in Varna in 2008 and that's how we got to know about the project.
—And you decided to get involved..
—I started helping out with some financial support. Initially a sum of 25.000 euro. They then contacted me again after getting promoted to the second division as they needed a bigger budget. I asked them "How much do you need?" And they replied: "Around 250.000". I agreed to help, but under the condition that I would become the financial director and our people were to oversee their spending. Finally in 2010/11 we went up to the top flight. At that point my brother and I studied what was necessary and we decided to surround ourselves with very good professionals, and as they say... the rest is history… three times Bulgarian champions in three years. The first year we won the triple and last year we managed to repeat that feat. It's an incredible history. Last season we played in the Europa League and lost to Valencia, but beforehand we had beaten: PSV, Dynamo Zagreb and Lazio…
—What's your secret?
—Hard work and good organization… We have a budget of 6 million euro, considerably less than other European teams. Levski and CSKA work with similar figures. Bulgaria is suffering from a hard hitting recession and there aren't too many investors about. Our budget has grown in accordance with the team's growth.
—In four years you've gone from the Bulgarian second division to the Champions League
—It's incredible, I never imagined it materialising.
—Are you now seen as big club in Bulgaria?
—It's an ongoing problem. That's why we lost to Levski. The team are tired from competing in the league and are overly focused on Europe. All our opposition play us at 150%. In Bulgaria playing against us isn't like playing against Madrid or Barça.
—And how do you continue to motivate your players?
—They need to understand that the league is very important. We need to keep imposing this point and at time there are fines…
—Fines?
—When we feel they play without giving their all its our answer. one thing is to lose to Liverpool. Another thing is to lose to Levski. They did silly things, red cards, yellow cards for protesting. We need to play our way.
—And rewards?
—If the team win, they are rewarded well.
—Against Madrid it could be a special reward...
—Yes, there will be an award but I'm sure the players are thinking beyond just their reward for beating Madrid.
—Is this your first investment in the world of football?
—Yes, I have invested heavily in various industries but had no previous experience of running a football club. Football is now a business like the rest. You have a product to sell and the results are important. It's also important to control spending and income.
—Is it profitable?
—We have had good profits, yes.
—Do you have any players who are owned by 3rd party investment funds..
—Here no.
—Do you like Spanish football?
—Yes, a great deal. In the past few years we've sent out coaches there to see how the likes of Barça, Villarreal or Espanyol work. We'd like to mimic the Spanish model and that it would extend to all of Bulgaria. Our style of play is like the Spanish national team. We like to retain possession.
—Will you play like this against Real Madrid?
—Yes, playing head to head with the big teams makes us proud. It will be a party. Many of the fans going to the game will be extremely happy if Ludogorets win, at the same time they want to see these "Galacticos". A final score-line? 2-2.